Click the link below to access the Tithe and Offering Readings 2022 for your local conference. Download the readings and use them during services to help explain the offering for the day and give a spiritual message behind worship through giving.
General Conference Tithe & Offering Readings and Videos 2022 – Available here
2022 Offering Booklets by Conferences
Greater Sydney
North New South Wales
Northern Australia
South Australia
South New South Wales
South Queensland
Tasmania
Victoria
Western Australia
Upcoming Offerings
January 21 – Discipleship of Adventist Youth
Thousands of Adventist young people are rising to the challenge of becoming world changers. By God's grace and power, they are living their hope in Jesus and transforming the Pacific. Each program and ministry to, for and by young people is designed to help them grow as disciples of Jesus Christ and play their part in His mission.
Please give generously on 21 January 2023 to empower and resource our army of youth across the South Pacific Division. Thank you.
Resources: Bulletin Announcements | Visuals for Social Media
December 10 – Mission to the Cities Offering
"When talking to Jonah, God said, "Should I not pity that great city Nineveh?" And Ellen White wrote that, "the work in the cities is the essential work of this time." When she wrote that in 1910 the population of New York city was smaller than Sydney is today! Your offering on 10 December will be used carefully and prayerfully to make disciples in the largest mission field in the South Pacific Division, our major cities. Please give as God challenges you. Thank you.
Resources: Video | Bulletin Announcements | Visuals for Social Media
November 12 – World Mission (Unusual Opportunities)
The World Mission (Unusual Opportunities) Offering is an opportunity to give to further expand God's mission into all the world. When a massive, but unexpected, mission opportunity presents itself to the Seventh-day Adventist Church, we need to be ready to respond rapidly. Please give generously on November 12 to the 2022 Unusual Opportunities Offering. Mark your tithe envelope 'Unusual Opportunities Offering' or give via the eGiving website or App. Thank you for opening your hearts.
Resources: Video | Bulletin Announcements | Visuals for Social Media
October 8 – ADRA Community Projects (Union)
In partnership with local Adventist churches, volunteer-run ADRA projects help to feed, clothe, connect and empower people to overcome hardship. Andrea, legally blind and recovering from a life-changing medical condition, found a place to belong at an ADRA project. Your offering today can help people going through a hard time get back on their feet. Help build belonging today, visit adra.org.au/adraappeal
Resources: Video | Bulletin announcements | Visuals for Social Media
Today's offering is the Annual Sacrifice Offering for Global Mission: The funds collected will be used to support Global Mission pioneers and Urban Centres of Influence to start new groups of believers among unreached people groups. Please write "Annual Sacrifice Offering" on your tithe envelope. Thank you for supporting Global Mission.
Other Resources: Bulletin announcement | Visual for IG | Visual for FB
Mamarapha College is a tertiary education institute owned and operated by the Australian Seventh-day Adventist Church. As an RTO (Registered Training Organisation) we offer nationally accredited qualifications ranging from Certificate II to Advanced Diploma courses in Indigenous Studies, Indigenous Pastoral Ministry and Lifestyle Health Promotion!
The Seventh-day Adventist church's membership in Australia includes 6% from the first nations people compared to the actual population percentage of first nations which is 2%. We want to continue to train men and women (Many of whom are not Seventh-day Adventist) in our holistic beliefs and health principles that can not only change their lives but the communities across Australia where they are from. This ministry is key in training disciples who are making disciples through evangelism in a Godly culturally sensitive.
Mamarapha web page: mamarapha.adventist.edu.au
Click here to download a complete promotional materials package.
Media present the church with significant opportunities to connect with our communities. Whether it be through broadcast media, social media, radio or print, these are all avenues by which we can share the good news of Jesus Christ with a large and unknown viewership as well as our neighbours and friends.
Many of you may remember the video series "Keepers of the Flame" that was made back in 1990. This Media Evangelism offering will help fund the production of a new series that will bring "Keepers of the Flame" up to date. It will be a docudrama that works with the key themes of the book Great Controversy and take the viewer from AD70 through to the Second Coming.
Your generous support for the offering on the 13th of August will help make this happen. It will provide you and your church with a dynamic and engaging resource for sharing Jesus.
Thank you for supporting The Comprehensive Media Evangelism with your offering today.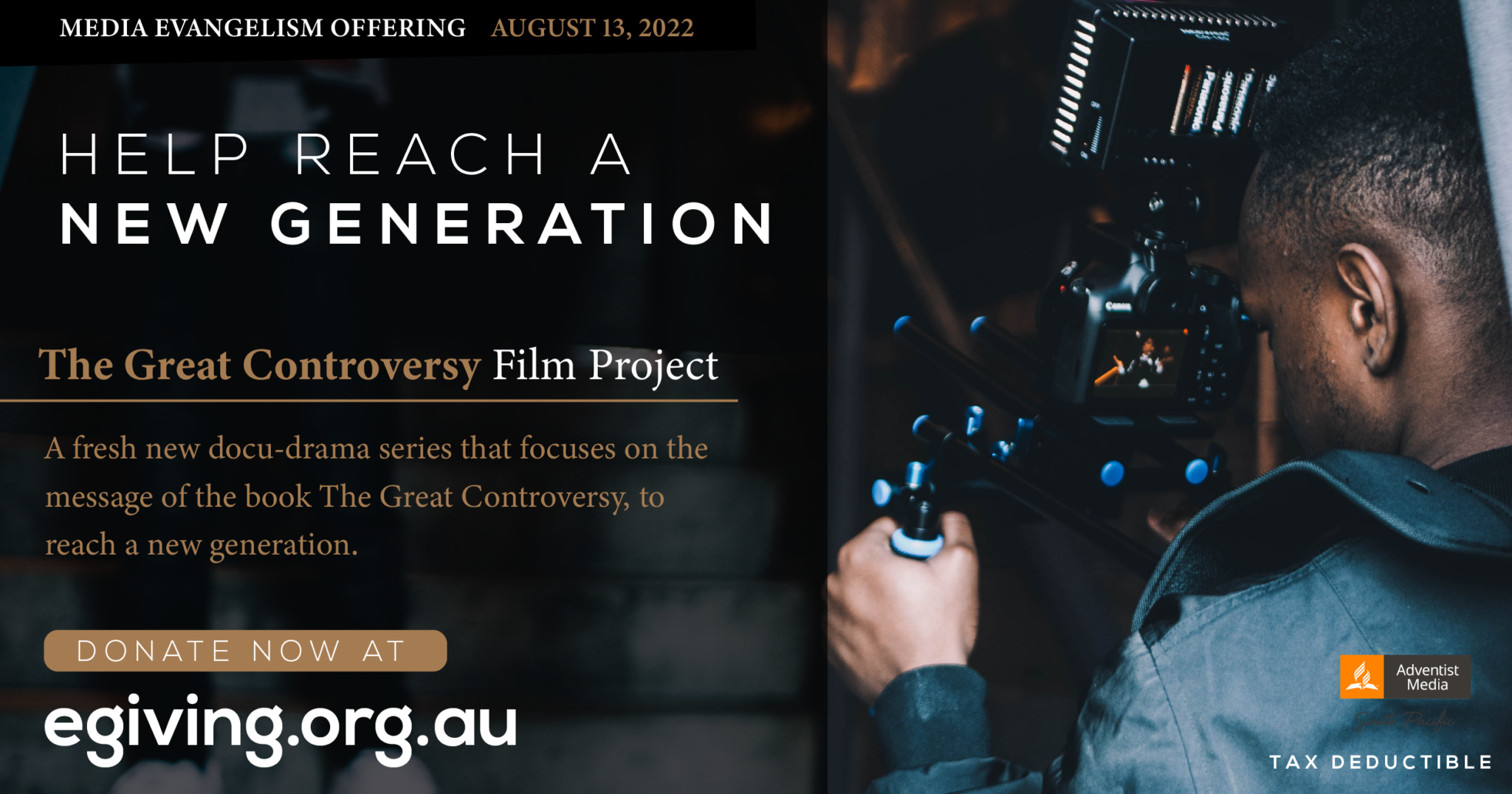 The Union Partnership Offering will be used to strengthen the mission work of the Southeastern Asia Union Mission, which includes the 190 million people living in Thailand, Laos, Cambodia, Vietnam and Timor Leste. The key project will be the sponsoring of theology, teaching and business studies students who can then practically support the gospel work in their homelands. Please give generously so that the good news of Jesus' soon return can be shared across this vast region.
eGiving.org.au
Click the links to download: 1 min video  |  3 min video  |  5 min video
It's World Mission Offering Day! Your gift today will help support cross-cultural missionaries as they work tirelessly to bring the hope and comfort of God's Word to communities that don't know Jesus. Thank you for giving generously to help fulfil the gospel commission in Matthew 28:19!
Thank you for supporting The World Mission Budget with your offering on July 9, 2022.
Other Resources: Bulletin announcement | Pulpit Appeal | Visual for IG | Visual for FB
Other Resources: Bulletin announcement |  Visuals for social media (ZIP file)
Health week is 14 – 21 May 2022 with the special offering being taken up on May 21. Our focus for this week is "An Empowered Life". Click on any of the following resources to download.
Social Media Resources  |  Empowered Life 7-Day Devotional  |  Children's Resources
RECORD Offering Sabbath 7 May – Adventist Record plays an important part in connecting our church family in these uncertain times. With a weekly e-newsletter, daily website stories, social media and our fortnightly print magazine, Adventist Record is more accessible than ever before in a way that is convenient to you. This week's offering (May 7) provides you with an opportunity to give back and to ensure that we can continue to provide church news, inspirational stories and important information to the Seventh-day Adventist church across the South Pacific and beyond!
Visual for social media (ZIP file)
Other Resources: Bulletin insert |  Visuals for social media (ZIP file)
Other Resources:  AWR Poster  |  Bulletin Insert  |  Church or Sabbath School Reading  |  Letter to Local Church  |  Visuals for social media (ZIP File)
Download complete promo package (ZIP File) here
Resources for social media: JPG  |  Word (FAQ)  |  Word (text for bulletin)
Christian Services for the Blind and Hearing Impaired (CSFBHI) is an integral part of the Adventist Church's ministry to people with special needs. Focused church offerings, donations and bequests allow CSFBHI to provide free services to thousands of people with special needs. These services include audio and braille resources for the blind, captioning and audio augmentation for the deaf and hard of hearing, advocacy and awareness building, and development grants to qualifying blind or deaf individuals or related organisations. Learn more at the  CSFBHI website. Please give generously and sacrificially on 22 January as you share God's blessings with others in real need. Thank you. (Australians can also make a tax-deductible donation online at any time through the 'Blind & Hearing Impaired' offering on eGiving.)
Resources for social media: PNG (ENG)  |  PNG (French)  |  Word (text for bulletin)
November 12 – World Mission Budget (Unusual Opportunities)
December 10 – Mission to the Cities (SPD)