Click the link below to access the Tithe and Offering Readings 2023 for your local conference. Download the readings and use them during services to help explain the offering for the day and give a spiritual message behind worship through giving.
2023 Offering Booklets by Conferences
Greater Sydney
Northern Australia
South Australia
South New South Wales
South Queensland
Tasmania
2023 Victorian Conference Offering Schedule
Upcoming Offerings
9 December 2023 – Mission to the Cities Offering
BULLETIN-PULPIT-Announcements-M2C-Offering-9-Dec-2023
VIDEO: https://vimeo.com/884657258
When talking to Jonah, God said, "Should I not pity that great city Nineveh?" And Ellen White wrote that, "the work in the cities is the essential work of this time." When she wrote that in 1910 the population of New York city was smaller than Sydney is today! Your offering on 9 December will be used carefully and prayerfully to make disciples in the largest mission field in the South Pacific Division, our major cities. Please give as God prompts you. Thank you.
 11 November – World Mission (Unusual Opportunities Offering)
When crisis hits the Seventh-day Adventist Church, we need to be nimble and agile to respond rapidly. By so doing, we can turn a challenge into a new opportunity to increase the impact of God's mission throughout the world. In just two weeks' time, we will be collecting the Unusual Opportunities Offering. Please mark your calendar and prepare to give generously.
36 When God Opens a Door on Vimeo
Promotional Resources
2023-SPD-UOO-Widescreen-English-1024×576
2023-SPD-UOO-Instagram-English-1024×1024
30 September 2023 – 13th Sabbath Offering 
Thanks to the team at Adventist Mission, we now have a short video that focuses specifically, but also generically, on 13th Sabbath Offerings. This means that our churches right across the SPD can use the video to promote the 13th Sabbath Offerings on any 13th Sabbath, or even just as a mission video in Sabbath School, regardless of which Division the 13th Sabbath Offering funds are going to.
Record Advert – 2023 13th Sabbath Offerings
2023-13Sabbath-Widescreen-V1-1024×576
9 September 2023 Annual Sacrifice Offering 
BULLETIN PULPIT Announcements – Annual Sacrifice Offering – 9 Sept 2023
What will you sacrifice for mission?
Global Mission pioneers are the unsung heroes of Adventist Mission. Around the world today, hundreds of these lay people go to unentered areas and people groups to start new Seventh-day Adventist congregations. Many of the places where they begin to work are areas where the church has never had success in the past, but nobody has told the pioneers that they can't do it.
o, on a small living stipend, they go and live among the people and put Christ's method of
ministry into practice. They mingle with the people in various ways: in the rice fields, playing
soccer with kids, in the cities. They show sympathy, and minister to needs in very practical ways.
And then they win the confidence of the people and bid them follow Jesus. These pioneers
embed themselves like Jesus did incarnationally in the community. They sacrifice their time and efforts to live simply and bring others into a loving relationship with God.
APPEAL: Historically, the Annual Sacrifice Offering has come at the end of the Week of Prayer, and it is an opportunity for us to sacrifice for mission. So please give generously to this important offering.
Indigenous ministries are one of the fastest growing ministries in Australia. Mamarapha College students are transformed by their experience at the College and they go on to lead frontline Indigenous ministries in bustling cities and remote communities across Australia. The powerful testimonies of transformed students and the impact they make in their communities is attracting more students to Mamarapha. Thanks to your generosity, new learning and communal meeting spaces and a computer lab were opened earlier this year and are already being used to increase the ministry impact of Mamarapha. Please give generously to the Union Offering for Mamarapha College on 19 August 2023. Thank you.
(NB. To receive a tax-deductible receipt please give at "Mamarapha Buildings" on eGiving.)
12 August – Comprehensive Media Evangelism Offering
Media presents the church with significant opportunities to connect with our communities.  Whether it be through broadcast media, social media, radio or print, these are all avenues by which we can share the good news of Jesus Christ with a large and often unknown viewership, as well as our neighbours and friends.
This year's Media Evangelism offering on 12 August will help to extend the reach of Hope Channel in the Cook Islands. Your offering will purchase antennas, transmitting equipment and studio gear, enabling Hope Channel to reach every corner of Rarotonga with Christian television. Thank you for your kind support of this soul-winning media outreach.
22 July – Union Global Partnership Project
The special offering on Sabbath, 22nd July is for the Union Global Partnership Project for the Seventh-day Adventist Church in Australia. The offering collected in Australia will go towards training and education for the South-eastern Asian Union Mission with a particular focus on our schools and supporting centres of influence in Laos, Thailand and Timor Leste. Your support on the 22nd of July will help to empower and resource these areas as they continue to grow. Thank you for your generous donations.
Promotional Pictures

13th Sabbath Offering (Sabbath School) – 24 June 2023
This Thirteenth Sabbath Offering (Sabbath School) will support five projects in the Inter-European Division:
Elementary school, Setubal, Portugal
Hope Life Center, Lyon, France
Youth camp and training center, Gland, Switzerland
Elementary school, Moisei, Romania
After-school center, Galați, Romania
Lots of 13th Sabbath resources can be found at https://am.adventistmission.org/resources-for-sabbath-school-leaders
Pacific Adventist University Offering – 10 June 2023
BULLETIN PULPIT Announcements – Pacific Adventist University Offering – 10 June 2023
The special offering on Sabbath, 10 June is for Pacific Adventist University (PAU) in Papua New Guinea. To keep up with their fast enrolments growth, and the fast-changing times that we live in, PAU plans to build an online digital education centre. It will enhance teaching and student learning through online classes, virtual reality and augmented reality. Your support on 10 June will help the University to meet this goal. Thank you for the support you are giving to PAU as they strive be an excellent provider of quality, Adventist education.
AU/NZ OFFERINGS SURVEY 2023 (Please announce until 30 June 2023)
***YOUR ANSWERS COULD HELP UNLOCK MILLIONS FOR MISSION***
Want to do your part in spreading the gospel to the ends of the earth? Today's your chance! By taking just 10 minutes to answer an anonymous survey, you can help the South Pacific Division Stewardship department to better understand church members' motives and practices in the area of giving to mission offerings.
Your answers could be the key that unlocks literally millions of dollars for mission work across the globe. Please take the survey via the link below, or scan the QR code. Thank you so much for your kind help.
Bulletin Announcement – Offerings Survey AU
https://www.surveymonkey.com/r/Z2VDHWK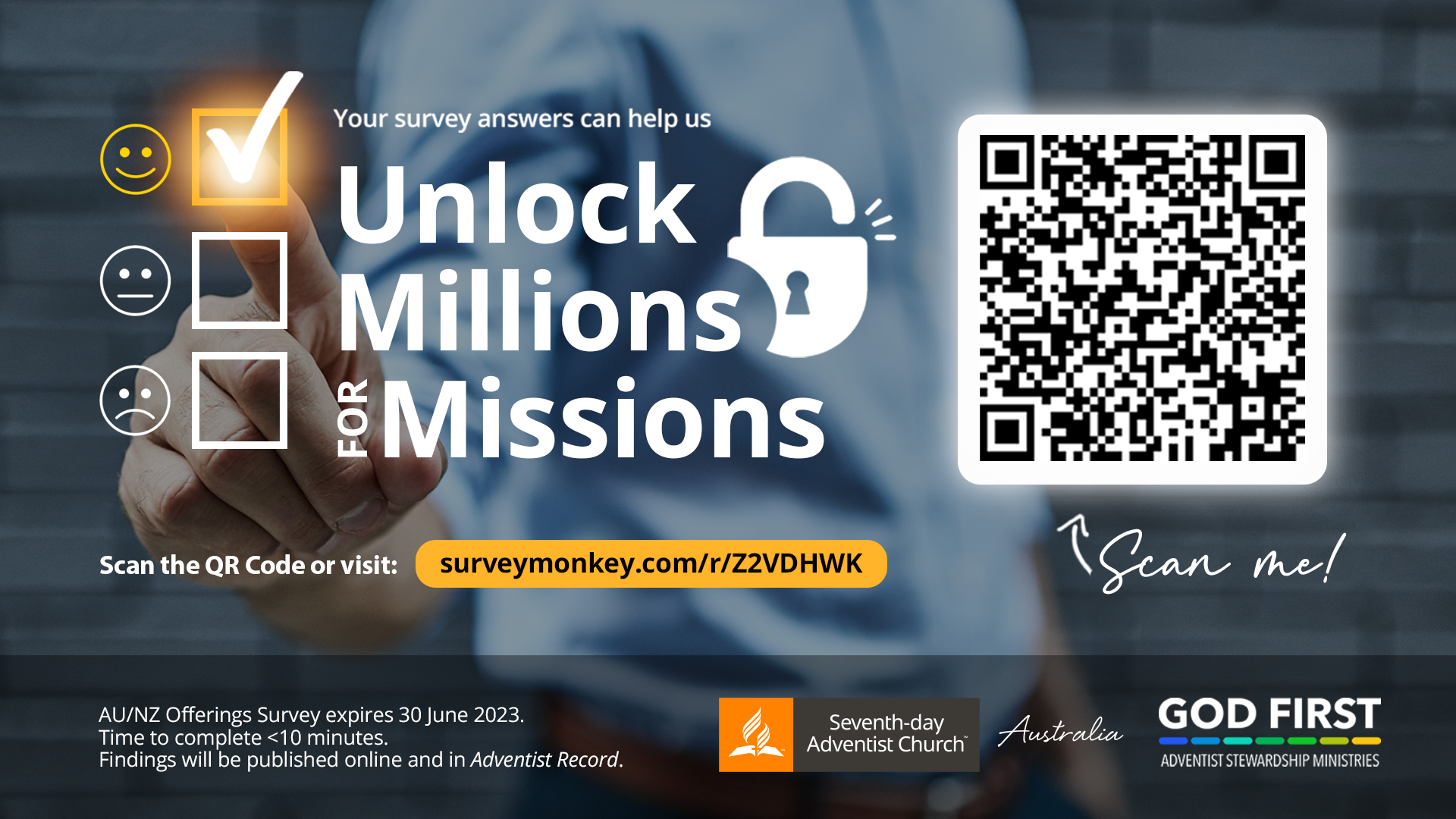 SOCIAL MEDIA BLURBS—Offerings Survey
20 May 2023
Did you know that globally, over 70% of deaths from disease are related to lifestyle and most of them are preventable?
Our purpose is to transform lives through whole-person health using Wellness Hubs.
We aim to partner with you to create 400 Wellness Hubs across the South Pacific.  This will provide access to life-saving education, resources and health services.
Your generous offering will make a difference and help us to achieve this goal.  Thank you!
Below are the resources you will need to promote Adventist Health Week and the Special offering on 20th May.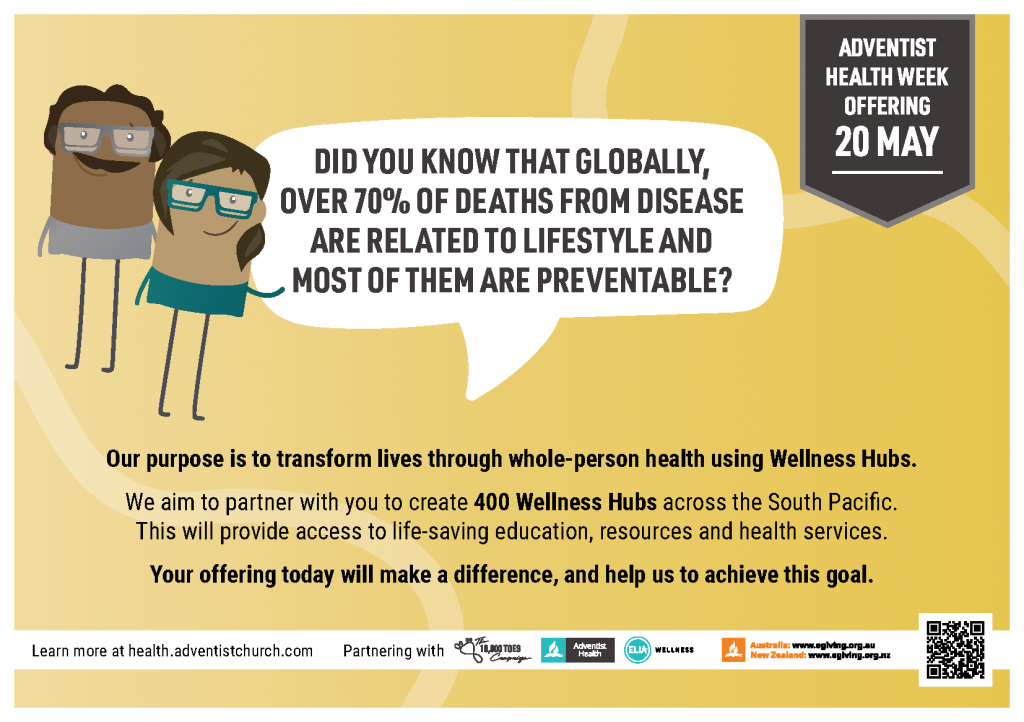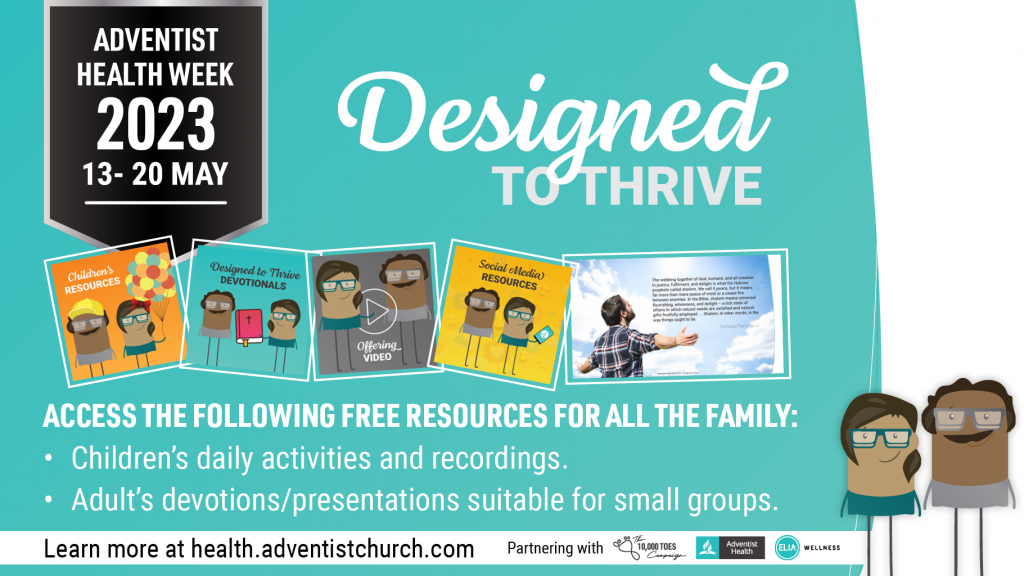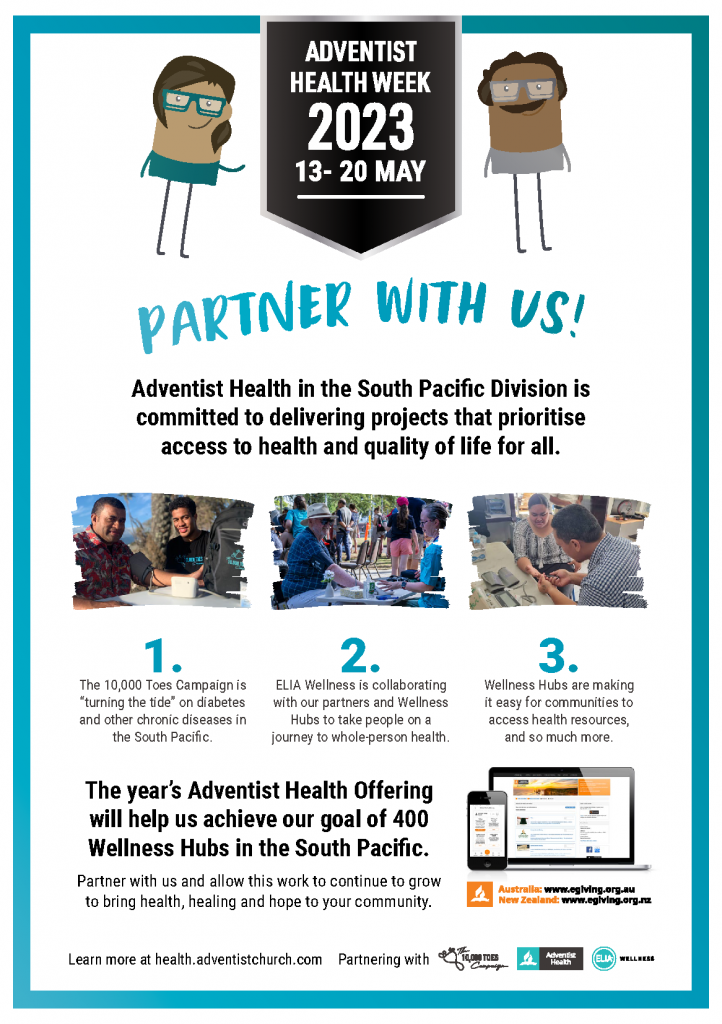 6 May 2023
Adventist Record
Did you know that Adventist Record is celebrating its 125th anniversary this year?
Throughout its long history, Record has been committed to keeping the Adventist community in the South Pacific Division informed, nurtured, educated and inspired, sharing news, theological and devotional content. But Adventist Record is no longer just a magazine! It is also a website, that is updated daily, has a social media presence across various platforms, has released books and is continuing to find new ways to keep our diverse community connected. Record also provides training and support for writers and communicators across the Division. And all of this is only possible because of your generous support.
By giving to the Adventist Record offering on 6 May you ensure that we can continue to tell our church family's stories, connect our family and share our hope. Thank you!
8 April 2023
Hope Channel
Church Bulletin Announcement Sabbath 8 April – Hope Channel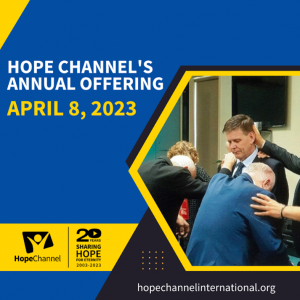 Hope Channel has been transforming lives for more than 20 years and reaches people in 80+ countries with messages of hope and love. Your support helps us continue to produce high-quality Christian content that inspires audiences to change their lives. Hope Channel also offers Bible studies through the Hope.Study platform, which has already attracted over 300,000 participants. Let's make 2024 our most impactful year yet in sharing the love of Jesus to people everywhere. Thank you for your support through your prayers and offering.
25 March 2023
Adventist Mission
Ngoma College of Health Sciences at the Ngoma campus of the Adventist University of Central Africa, is situated about 150 kilometres from Kigali, the country's capital. Your support of a new dormitory through the 13th Sabbath Offering this quarter will make a difference in the lives of those on this campus.
Adventist World Radio
11 March 2023
11 February 2023
ADRA: Disaster and Famine Relief Offering Today!
Disasters, like the Ukraine Crisis or the flooding in Australia, are an opportunity for our churches to engage meaningfully with our community and show love in action to those who need it most.  They are an opportunity for us to serve others just as Jesus would.
Your support of today's Disaster and Famine Relief Offering will help us be Always Ready and Always There to help those most in need in times of disaster.  You can also give online at adra.org.au/respond.

21 January 2023
Offering for the Discipleship of Adventist Youth 
Thousands of Adventist young people are rising to the challenge of becoming world changers. By God's grace and power, they are living their hope in Jesus and transforming the Pacific. Each program and ministry to, for and by young people is designed to help them grow as disciples of Jesus Christ and play their part in His mission.
Please give generously on 21 January 2023 to empower and resource our army of youth across the South Pacific Division. Thank you.