Click the link below to access the Tithe and Offering Readings 2023 for your local conference. Download the readings and use them during services to help explain the offering for the day and give a spiritual message behind worship through giving.
2023 Offering Booklets by Conferences
Greater Sydney
Northern Australia
South Australia
South New South Wales
South Queensland
Tasmania
Upcoming Offerings
Pacific Adventist University Offering – 10 June 2023
BULLETIN PULPIT Announcements – Pacific Adventist University Offering – 10 June 2023
The special offering on Sabbath, 10 June is for Pacific Adventist University (PAU) in Papua New Guinea. To keep up with their fast enrolments growth, and the fast-changing times that we live in, PAU plans to build an online digital education centre. It will enhance teaching and student learning through online classes, virtual reality and augmented reality. Your support on 10 June will help the University to meet this goal. Thank you for the support you are giving to PAU as they strive be an excellent provider of quality, Adventist education.
AU/NZ OFFERINGS SURVEY 2023 (Please announce until 30 June 2023)
***YOUR ANSWERS COULD HELP UNLOCK MILLIONS FOR MISSION***
Want to do your part in spreading the gospel to the ends of the earth? Today's your chance! By taking just 10 minutes to answer an anonymous survey, you can help the South Pacific Division Stewardship department to better understand church members' motives and practices in the area of giving to mission offerings.
Your answers could be the key that unlocks literally millions of dollars for mission work across the globe. Please take the survey via the link below, or scan the QR code. Thank you so much for your kind help.
Bulletin Announcement – Offerings Survey AU
https://www.surveymonkey.com/r/Z2VDHWK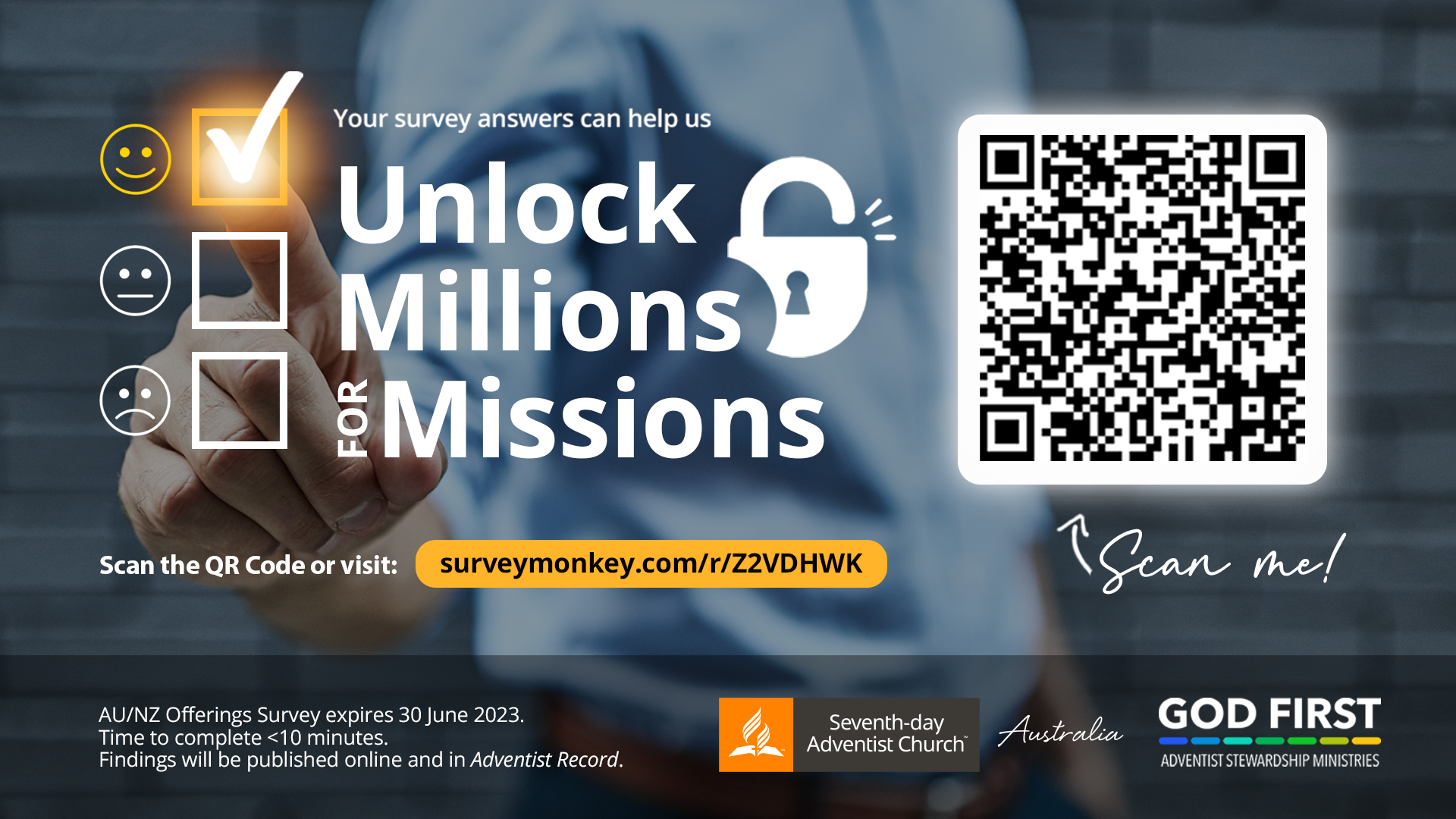 SOCIAL MEDIA BLURBS—Offerings Survey
20 May 2023
Did you know that globally, over 70% of deaths from disease are related to lifestyle and most of them are preventable?
Our purpose is to transform lives through whole-person health using Wellness Hubs.
We aim to partner with you to create 400 Wellness Hubs across the South Pacific.  This will provide access to life-saving education, resources and health services.
Your generous offering will make a difference and help us to achieve this goal.  Thank you!
Below are the resources you will need to promote Adventist Health Week and the Special offering on 20th May.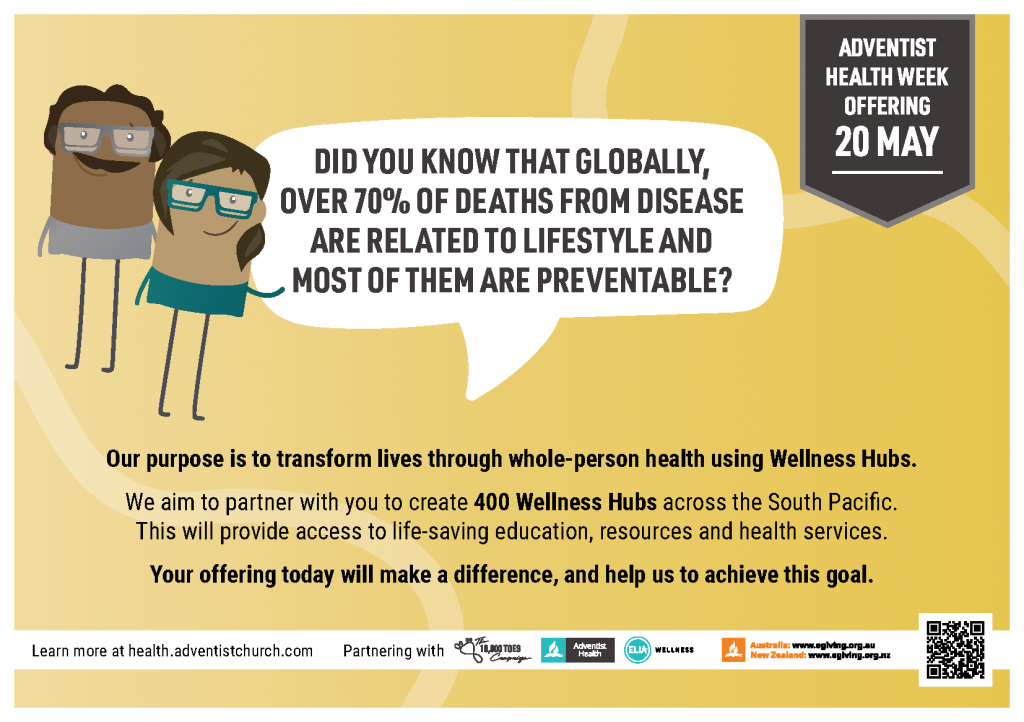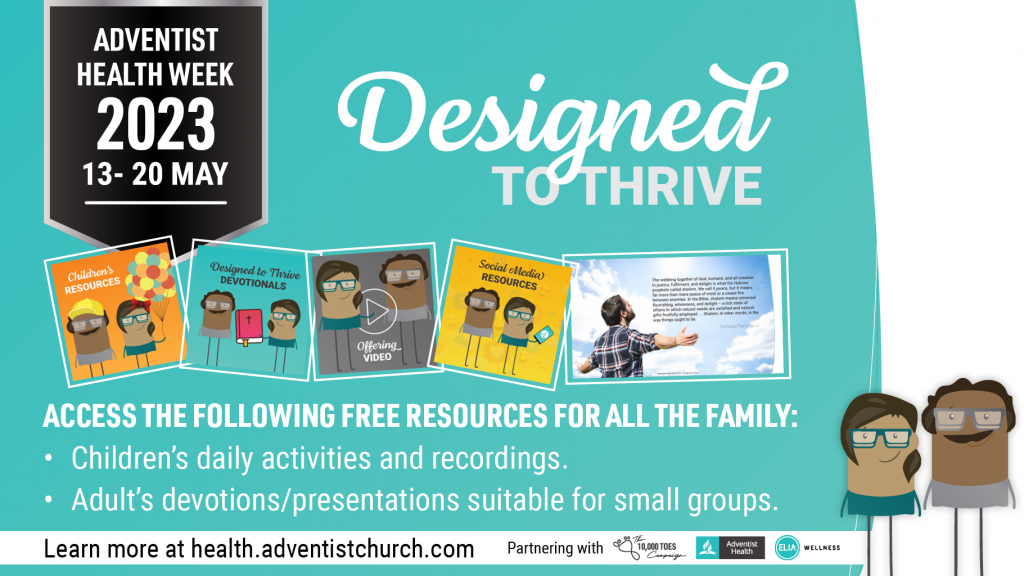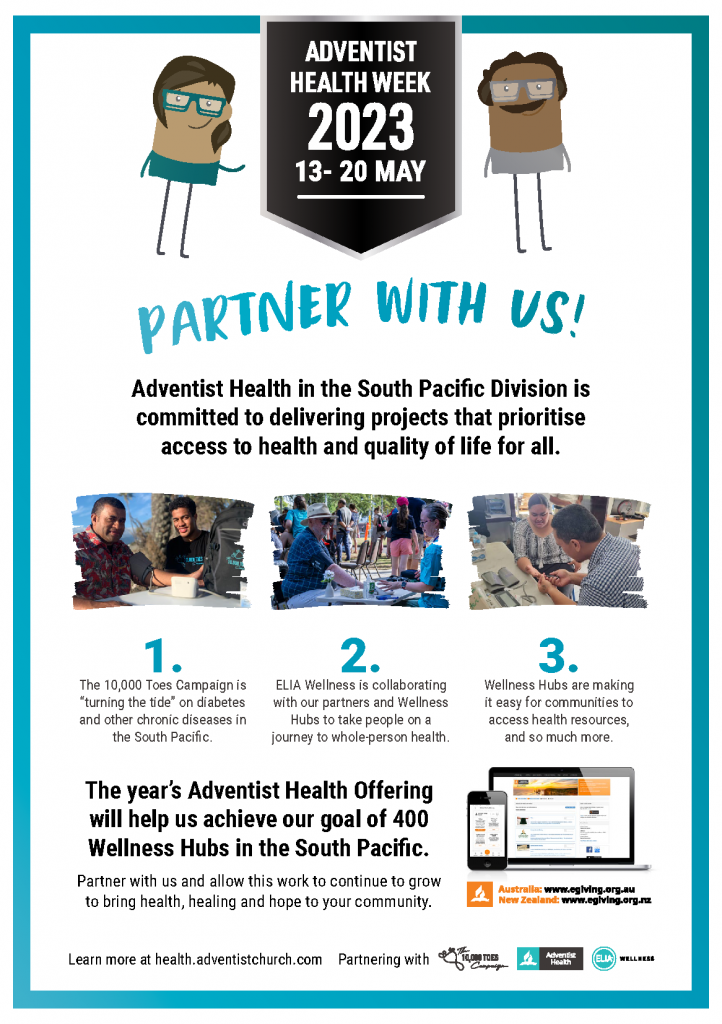 6 May 2023
Adventist Record
Did you know that Adventist Record is celebrating its 125th anniversary this year?
Throughout its long history, Record has been committed to keeping the Adventist community in the South Pacific Division informed, nurtured, educated and inspired, sharing news, theological and devotional content. But Adventist Record is no longer just a magazine! It is also a website, that is updated daily, has a social media presence across various platforms, has released books and is continuing to find new ways to keep our diverse community connected. Record also provides training and support for writers and communicators across the Division. And all of this is only possible because of your generous support.
By giving to the Adventist Record offering on 6 May you ensure that we can continue to tell our church family's stories, connect our family and share our hope. Thank you!
8 April 2023
Hope Channel
Church Bulletin Announcement Sabbath 8 April – Hope Channel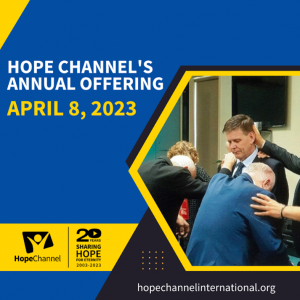 Hope Channel has been transforming lives for more than 20 years and reaches people in 80+ countries with messages of hope and love. Your support helps us continue to produce high-quality Christian content that inspires audiences to change their lives. Hope Channel also offers Bible studies through the Hope.Study platform, which has already attracted over 300,000 participants. Let's make 2024 our most impactful year yet in sharing the love of Jesus to people everywhere. Thank you for your support through your prayers and offering.
25 March 2023
Adventist Mission
Ngoma College of Health Sciences at the Ngoma campus of the Adventist University of Central Africa, is situated about 150 kilometres from Kigali, the country's capital. Your support of a new dormitory through the 13th Sabbath Offering this quarter will make a difference in the lives of those on this campus.
Adventist World Radio
11 March 2023
11 February 2023
ADRA: Disaster and Famine Relief Offering Today!
Disasters, like the Ukraine Crisis or the flooding in Australia, are an opportunity for our churches to engage meaningfully with our community and show love in action to those who need it most.  They are an opportunity for us to serve others just as Jesus would.
Your support of today's Disaster and Famine Relief Offering will help us be Always Ready and Always There to help those most in need in times of disaster.  You can also give online at adra.org.au/respond.

21 January 2023
Offering for the Discipleship of Adventist Youth 
Thousands of Adventist young people are rising to the challenge of becoming world changers. By God's grace and power, they are living their hope in Jesus and transforming the Pacific. Each program and ministry to, for and by young people is designed to help them grow as disciples of Jesus Christ and play their part in His mission.
Please give generously on 21 January 2023 to empower and resource our army of youth across the South Pacific Division. Thank you.